One tangible milestone from this program is the upgrade in writing proposals and grant applications. As a result of the training, I have been able to prepare winning grant proposals for my organization". This program strengthened my leadership, governance, and management capacity while equipping me with the necessary skills to deal strategically with complex challenges.
I came into the DFA Social Innovators Bootcamp a novice and won a grant of $300,000 before the 12 weeks was over. I am thankful for this course and the light bulb moment from each session. Having a coach is very important, and our coaches knew their onions and delivered them with top-notch excellence. Participating in this program has given me the drive to seek more.
I am excited to announce that I have been selected among the 40 Female Entrepreneurs for the Future Females-Business School by the UK-Nigeria Tech Hub. I was also chosen as the best 40 YALI Alumni across Africa and National Winner of the 2021 Professor Yemi Osinbajo (The Vice President of Nigeria) Business Grant Competition, I was featured on New York Times Square by the NASDAQ . The GEDA program was a springboard for me, and it made me stand out in my understanding of the issues and uniquely positioned my project. Thank you, DFA.
Wonderful things start from little beginning. Before the GEDA SIBC, I was in a rut. The GEDA fellowship gave me clarity on how I should do my work. I recently got accepted into one of the biggest fellowships in sub-Saharan Africa and was announced a Cartier Fellow and won the 2022 WE Empower Pitch Competition by Vital Voices. This was such a life changing accelerator.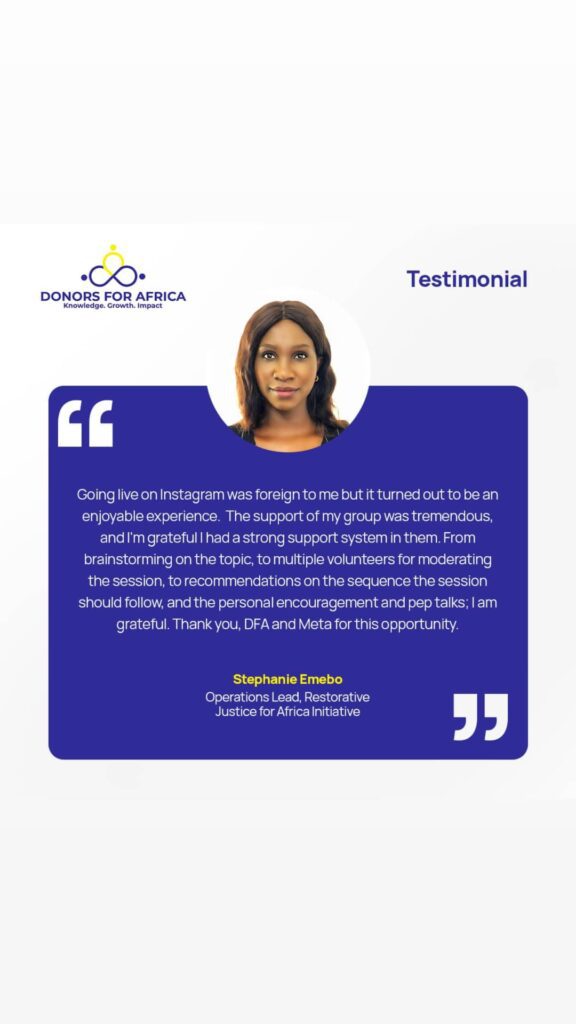 I want to thank DFA for the 10 weeks of learning. It has been an incredible time. After attending the last class about grant and proposal writing, I have just secured a grant as a 3rd runner up for the Global Engagement Summit 2022. The details of the grant training helped me to put forward a strong application. Thank you for your time and commitment.​
Would You Like to join them?
You Can Be A Part Of The Next Cohort
Applications open once a year. Click on the button below to see if you can apply now